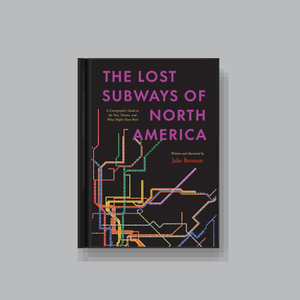 Fifty-Three Studio
PRE-ORDER A SIGNED COPY: The Lost Subways of North America: A Cartographic Guide to the Past, Present and What Might Have Been
Regular price
$35.00
$0.00
My debut book, The Lost Subways of North America: A Cartographic Guide to the Past, Present and What Might Have Been, published by the University of Chicago Press, is coming out November 2023.  If you pre-order from me by October 15th, I'll send you a copy.  Books will ship in late October.

Book description from my publisher:
Why is it that the mass transit systems of most cities in the United States and Canada are now utterly inadequate? The Lost Subways of North America offers a new way to consider this question, with a strikingly visual—and fun—journey through past, present, and unbuilt urban transit. Berman combines vintage styling with modern printing technology to create a sweeping visual history of North American public transit and urban development.

Hardcover, 272 pages, 107 color plates, 8.5x11".
Advance praise:
"Exquisitely illustrated."
—Publishers Weekly

"Berman's lively history of American subway debates takes us beyond the usual nostalgia of so much writing on the topic. It helps us to see how our ancestors' values and motivations created the infrastructure we have, and gives us the courage to make better choices now."
—Jarrett Walker, author of Human Transit
"It is as much a critique of the rise and fall of industrial cities as it is a history of failed transit schemes, for which it should become recommended reading for anyone interested in the effects of unbridled capitalism, corrupt politics, and big egos on North American daily life."
—Mark Ovenden, Fellow of the Royal Geographical Society, author of Underground Cities
"Berman's many exceptional maps are provocations worth thousands of words each, conveying a history of relative transportation abundance in the U.S. There is no other book on public transportation like it."
—Steven Higashide, author of Better Buses, Better Cities

"Berman takes us on a whirlwind cartographic and textual tour of urban rail transit's lost lines and unbuilt extensions. Time and again, American voters and political leaders rejected or abandoned plans to create big, fast, bold transit systems that could compete with automobiles. While we can't go back and change history, Berman provides a clear vision of just how much was lost."
—Nicholas Dagen Bloom, author of The Great American Transit Disaster
"A comprehensive and accessible history of a profoundly consequential and underexplored cultural event. It makes you wonder at what was lost."
—Angie Schmitt, author of Right of Way
---
More from this collection